Main Content
Did you know that more than 60 percent of Wake Forest undergraduates study abroad?  More than 400 options are available through University-administered and affiliate programs in more than 200 cities and 70 countries worldwide.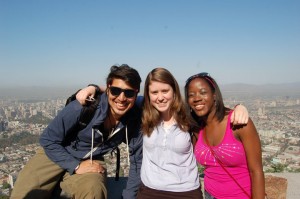 Wake Forest has a brand new program this semester that is bringing students to South America.  Currently seven students are spending the  semester in Santiago, Chile, in the newly established Wake Forest Southern Cone Program.
The University has partnered with the Universidad Diego Portales. The Wake Forest faculty-led program includes home stays with host families, classes with Chilean students and travel throughout the region.
There is a great article online with one of the students, David Banerjea ('12), where he answers questions about the experience thus far.  You can also follow the Southern Cone students on Facebook (search for "Wake Forest University Southern Cone: Chile & Argentina").  Student Lauren Martinez is also blogging about her experiences abroad (click the "a travel blog" tab at the top right of her web site).
Read the full story about the Southern Cone program.  And encourage your students to consider this new program as they think about potential study abroad options.
Recent Posts
August 12, 2020

August 11, 2020

August 10, 2020