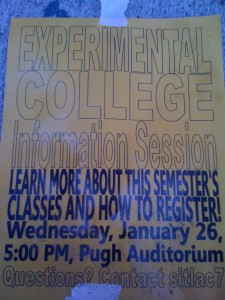 Wake Forest Campus Life posted this on their Facebook account yesterday: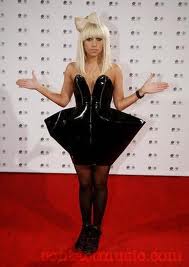 "Have you heard of the WFU Experimental College (ExCo)? Classes are taught by faculty, staff and STUDENTS on really interesting topics. An info session this Wednesday will help get you enrolled this semester in classes like Lady Gaga and Harry Potter. Don't miss out!"
Pugh Auditorium
Time: Wednesday, 26 January 2011  5:00 pm
When you go to the Facebook page for more details, you get this:
"The idea behind Wake Forest University Experimental College (WFU ExCo) is simple: give students, faculty, and staff members the opportunity to interact with one another by teaching/taking classes on topics which may or may not be traditionally academic, as long as they are not already offered in any department's curriculum. The topics of these classes can be anything from "Andy Warhol: Art and Popular Culture" to "The Israel-Palestine Conflict", from learning the Argentine tango to basket weaving, from "The Evolution of Country Music" to "The Religious Symbolism of True Blood". The wide range of possibilities is unending.
In order to avoid the most busy and stressful parts of the Wake Forest academic semester, the ExCo will run for 10 weeks instead of 15. In the spring of 2011, classes will begin the week of January 31 and will conclude on April 15.
This semester, the WFU ExCo will be offering five classes:
– Basic to Intermediate Contract Bridge, taught by Dr. Tom Phillips on Thursdays from 11AM – noon.
– Gaga: A Study, taught by Tré Easton on Thursdays from 6-7 PM.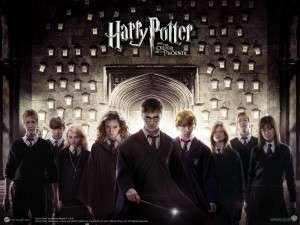 – Harry Potter: An Intellectual Approach to an Overnight Classic, taught by Anna Butler on Wednesdays from 4-5 PM or 5-6 PM (two sections).
– Human Trafficking: Modern Day Slavery, taught by Joanna Villacorta on Tuesdays from 4:30-5:30 PM.
– Understanding Comics and Sequential Art, taught by JT Peifer and Cory Bullock on Tuesdays from 6-7 PM.
This year's registration will be online through the Professional Development Center – details coming soon.
To learn more about how the WFU ExCo works, how to take this semester's classes, and how YOU can apply to teach next semester's classes, come by the Information Session on Wednesday, January 26 at 5:00 PM. Students, faculty and staff welcome.
Questions, comments, or concerns? Please email them to Aubrey Sitler: sitlac7@nullwfu.edu.
IMPORTANT NOTE: Unfortunately these classes do not count for academic credit at this time. Although we are hoping for them to be one credit pass/fail in the future, due to the infantile nature of the program such credit is not attainable at this time. However, classes only meet once a week for about an hour. Outside work will be minimal but integral to class discussions. If you choose to take a class, it should be because you are genuinely intrigued by the subject matter, not because you need one more credit to be a full time student. It should be like pursuing a hobby. Think of the ExCo as another organization of which you are a part. The time commitment is minimal, but what you stand to gain from partaking in any of the sure to be legitimately engaging, fascinating and pertinent classes listed above far exceeds what any other organization on this campus has to offer you."