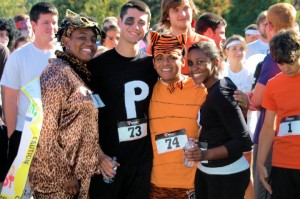 A few days ago, I posted about some sort of road race/scavenger hunt taking place on campus. Now we have some more information about what this was: a race sponsored by Campus Recreation called The Unpredictable.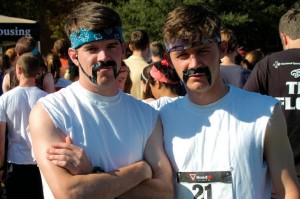 Here's how it is described: "Teams of two will race around WFU in search of muddy, mental, physical, outrageous and unpredictable challenges in search of that golden prize – FINISHING." Students could register for free, and there was a donation of canned goods for charity. Prizes were awarded for most cans donated, best costumes, and of course best finish times.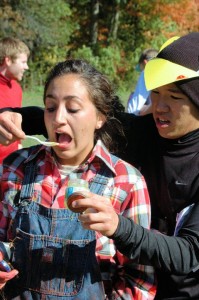 You can see the winners list (and do check out the team names – some of them are so clever!) and more on The Unpredictable web site. Thanks to my colleagues in Residence Life for sending some pictures of this year's event too.
Parents, if your student is not already acquainted with Campus Recreation, this is a wonderful way for him or her to find interesting activities and their own 'niche' on campus. There are intramural sports and club sports in a wide variety of subjects, but also outdoor pursuits like backpacking and hiking. Campus Rec has some great programming available – hope your students are interested and take advantage of them.