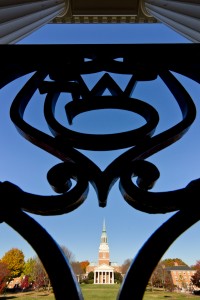 It's Friday, parents! A beautiful sunny day is on the horizon for your students – mid 60s, great fall weather. Campus is turning its attention to several noteworthy athletic events coming this weekend:
Men's basketball plays tonight at 7 pm the LJVM Coliseum against Stetson
The Lady Deacs of Women's Soccer are playing at 5 pm Pacific time against San Diego
On Saturday, Coach Jen Averill will take her Field Hockey team to play Princeton at 2 pm. WFU has an outstanding legacy in Field Hockey, with 3 National Championships in the early part of the 2000s.
On the cultural front, we have a lot going on too:
Greg Mortenson joins BOOKMARKS on his national tour for the paperback release of his bestseller, "Stones into Schools: Promoting Peace Through Education in Afghanistan and Pakistan," which he co-authored.  This is at 6:45 tonight in Wait Chapel ($10 tickets for students with ID)
Students can see a dance exhibition at 7 pm tonight.  The One-Spirit Dance Teamthat performs traditional, fancy and hoop dancing from the Lumbee and Haliwa-Saponi tribe will be in the Annenberg Forum of Carswell Hall.
Or they can go to Reynolda House at 8 pm for a "Dance Dance Evolution" ($5 tickets for students)
And if none of that tickles your student's fancy, Student Union is showing the film "The Blind Side" this weekend in Pugh Auditorium, Benson Center.
Looking ahead to next week, the symposium on A.R. Ammons, WFU alumnus and noted poet, is taking place next Monday and Tuesday. "Single Threads Unbraided" will have some fantastic speakers, so encourage your students to participate.