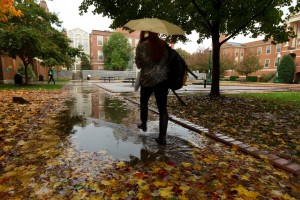 It's another rainy day on campus. Gray and overcast, alternating between a drizzle and a strong rain, this will be a day for your students to bring out their rain jackets and boots. This would be a great day for students to pack their backpacks and head over to the library for a nice big Starbucks and a quiet place to study.
The men's basketball team redeemed itself after the loss on Friday.  Lastnight the Deacs had a strong first half and went on to a 63-56 win against Hampton in the first round of the NIT Season Tip-Off. With the win, we play VCU tonight at 7 p.m. at the Joel Coliseum.
Between the loss last Friday to Stetson and the news that our Tony Chenault broke his foot and will be out 8-10 weeks, it had been an unpleasant couple of days for basketball fans. Hopefully this win will reanimate our spirits.