It is a beautiful sunny day on campus. Warm, maybe in the low 80s. Picture perfect.
Looking out the back windows of the top floor of Reynolda Hall, you can see big rings of rented tables for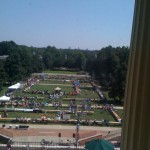 the Student Activities Fair today. This is the first chance this fall for the new freshmen to see the breadth and depth of the various student organizations on campus. All the groups come out to host a table and attract new members to their organization. This is a must attend for students who want to get involved in campus life.
The groups range from social to service oriented to athletic, religious, academic and more. Wake Forest has close to 150 student organizations, so there ought to be a place for any student to find a group to which he/she wants to belong. And if there isn't a group out there, just form your own. There are staff mentors and helpers in the Office of Student Development and Office of Campus Living to help.