Main Content
For an administrator or faculty member, the end of the day Friday represents the end of the work week, time to go home and relax. For students, it hopefully represents the beginning of a nice weekend with friends and fun.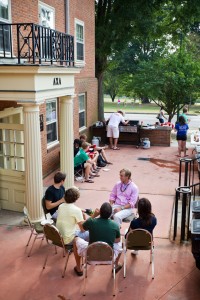 As I was leaving work Friday afternoon, I walked by one of the fraternity lounges near the Quad. There were about 20 young men and a few women sitting outside on their lounge wall. The grill was going and they were cooking. Someone had a stereo plying music, and a small group was playing corn hole near the grass.  Other young men were playing catch with a football and or just sitting there talking to friends enjoying the beautiful sunny day.
Everyone was having a really good time. It was nice to see.
Recent Posts
September 25, 2020

September 24, 2020

September 23, 2020