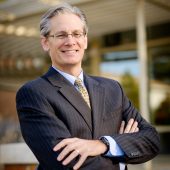 Mark Petersen, Vice President for University Advancement
As the Vice President for University Advancement, Mark Petersen leads the University Development, Alumni & Donor Services, Communications & External Relations, Alumni Engagement and the Wake Forest magazine teams, whose shared vision focuses on annually generating $100 million dollars or one third of Wake Forest's annual budget. To do so will significantly reduce the University's dependence on tuition revenue and thus drive a transformation of the Wake Forest community. During his tenure, Mark has designed and implemented Wake Will Lead, the University's first ever $1 Billion capital campaign. Wake Will Lead has surpassed all expectations – becoming the most successful campaign in the University's history to-date.
Mark is a graduate of Brandeis University and received a Master of Arts degree from the Annenberg School for Communication at the University of Southern California.