Main Content
I am back after a week away from the office, and it is a glorious day on campus. Sunny, low 70s, flowers are out, and we had a gigantic shower over the weekend that hopefully swept some of the pollen away.
It was another big weekend for Deacon athletics. The women's golf team and the men's tennis team brought home ACC Championships. We seem to be on a roll with one great achievement after another. I give that a big "GO DEACS!"
Lots going on this week (as seen in the Events Calendar). Here's a quick hit recommendation of one event your Deacs should consider each day this week.
Monday – Out at Wake: Centering Queer People of Color at WFU – Out at Wake is an annual event featuring a panel of LGBTQ WFU community members (students, faculty, staff) speaking on their experiences
Tuesday – the Noesis Lecture Series – Dr. Stephen Pinker, acclaimed psychologist, will be lecturing on "Enlightenment Now"
Wednesday is the Senior Sendoff – a party to help celebrate the Class of 2019.
Thursday is the Spring Student Choreographic Concert – where students showcase their choreographed works
Friday – Graphic Novel Book Club – this month's book appears to be from author (and WFU parent) Neil Gaiman (P'16)
These topics may – or may not be – within your student's area of interest. But I offer them because sometimes it's good to step out of our normal patterns and comfort zones and learn something new and novel.
Classes end on May 1st, which is not far off at all. Here's something I saw on social media this weeken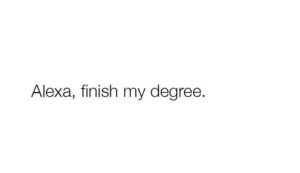 d that might be especially funny to our seniors who are soooooo close to being finished with college 🙂
Make it a great week, Deac families!
— by Betsy Chapman '92, MA '94
Recent Posts
September 25, 2020

September 24, 2020

September 23, 2020