First news is that tonight is a community forum.  As always, since your students are part of this community and have a voice in who we are and how we want to be, I hope they attend.  The Provost, Rogan Kersh ('86) emailed the campus community an invitation yesterday:
Greetings Wake Foresters!  I hope to see many of you at the Community Forum tomorrow evening [Wednesday, September 9], intended to continue shaping a shared WFU culture of inclusivity and meaningful intellectual exchange.  The Forum builds on last year's 'Deliberative Dialogue' and related campus-climate conversations and proposals.  After a brief introduction, students, faculty, and staff will gather in small groups to engage around the thematic opportunities and challenges central to the Dialogue, with particular focus on the commitments emerging from last academic year and summer's collective efforts.  Thematic areas (such as curricular revisions, campus policing, and student engagement) along with many of our initial commitments are summarized at the 'Community in Progress' website, found at http://community.wfu.edu/.
I thank so many of you for affirming through your engagement to date the shared effort to make Wake Forest a place that embraces all who call it home.  This Forum represents another such opportunity for collective involvement.  We will gather tomorrow [Wednesday, September 9] at 7:00 pm in Benson University Center 401.  I look forward to the conversation.
Rogan Kersh
Provost and Professor of Politics & International Affairs
——————
Changing topics, so far this academic year I have not done any of the "Five Senses" Daily Deacs, where I pick a spot on campus and try to describe what I see, hear, feel, etc.   Yesterday I was early to a meeting in Reynolda Hall, so I had some time to observe.  Here are the Five Senses of the lobby outside the Mag Room (aka the Lu leake Lounge) from 12:45 pm Tuesday 9/8.
I see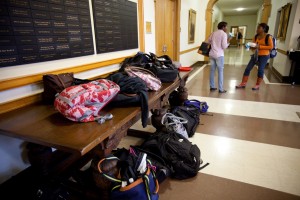 – 20 or so backpacks of all shapes and sizes on the tables outside the Mag Room.  Students leave them there before they go in to eat.  The Honor System is alive and well.
– A collection of blue sofas and chairs on an old oriental-esque throw rug.
– A female student sitting on the couches in the lounge.  She has a laptop open and is typing purposefully.
– Students sitting down at the Mag Room tables.  They probably appreciate having a tablecloth and a cloth napkin for a change.
– Someone wanting a picture in front of the Donor Wall outside the Mag.  Studying girl was kind enough to help her take it.  The lady who wanted to get the picture complimented her for being so sweet to take it for her.
– A girl with an absolutely magnificent, abundant head of very long hair.  Like Disney Princess length and volume.  Fantastic.
– Administrators and staff members as they pass through the hall.  Reynolda is a happening place.
– People tend to be dining in smallish parties – 2 or 3 pp.  But I do spy a full 6 top of students in there.
– The blinds are open and you can see out the back windows toward the Mag Quad.  It has a great view of downtown.
– One departing group of girls greeting a couple of friends who are entering.  One of the new ones is a guy and he hugs one of the girls hello and compliments her hairdo, asking if it is new.  His tone is appreciative.  I wonder if she is pleased that he noticed?
– The drawer pulls of one of the sideboards in the lounge are lions with circles in their mouths.  This same 'lion plus circle' motif was seen on giant earrings when I was an exchange student in Dijon back in 1990.  (It was all big jewelry, all the time.)
– Lots of the students' backpacks appear to have reusable water bottles in them.  Nicely done, Green Deacs.
– Hairdo complimenter just hugged another girl hello.  He has a 10,000 megawatt smile.  I bet everyone feels at ease around him.
I hear
– The clink of silverware as it hits plates.
– A group of guys leaving the Mag Room.  One is recounting a story of how he slipped out of somewhere very quietly.
– The occasional cough.  One sneeze.
– Many conversations.  There are enough going on so that I can't make out any details.  The voices are lively, upbeat, laughing at times.
– "That sounds like a real good time!" – can't tell if that snippet of conversation is sarcasm or if it is genuine.  I also heard them say "so sad" as part of it.
– Ice clinking in glasses.
– The warm, kind voice of the lady who checks you in as you enter the Mag Room.  Bless her, she is always smiling and so friendly.
– Two girls walking out of the Mag room laughing and going "Oh my God!"
– Someone walking down the halls with more of a stomp than a walk.  Very strong strides that you hear every one of.
– The sliding sound of backpacks being slung over backs.
– The sound of a glass breaking – and as it did, TOTAL SILENCE fell in the room.  Everything stopped for just a sec and then it started up again.  I hear the sound of glass shards being picked up.
– "Thank you!"  "Goodbye" etc. as people leave the room.
I smell
– An indistinct food smell.  Vaguely fried, but not distinctive enough for me to make it out.  I can't see what is on the menu from my vantage point.
I feel
– A refreshing breeze when someone opens the doors that exit out to the Quad and the outdoor staircase.
– A divot in the bottom of the chair I am sitting in.  Clearly, many many students have also sat here.  It could use a bit more stuffing.
– The well worn wood of a long table where I have left my belongings.  My foot is propped up on the lower side of the table.
Nothing to taste, as I didn't go in to eat.  There's your Five Senses, Deac friends and family.
— by Betsy Chapman